About Us.
Believe in the power of education ‧ Adhere to the essence of education ‧ Implement the concept of education BAIS Cultural & Educational Group CO., LTD. was found in 1988. Mr. Wang Bai Shi – the establisher who upholds "Sincerity, Creativity, Satisfaction "business philosophy, has leaded a group of excellent managers to expand BAIS Education Institute (BAIS Elite Math) step by step,from a small funds direct managed school with few students at the beginning to hundreds of schools around Taiwan and oversea.
BAIS Education Group attaches great importance to "education research and development ", for children's learning materials are to develop children's thinking ability as the main axis of continuous compilation and update; BAIS pay attention to the child's learning process, with the development of digital technology, the use of animation to show the creative thinking of the hundred, let the children's learning through the "electronic whiteboard animation lecturing " guidance. Students can easily understand the principle and thinking of learning, after class children can use the "184 after-school learning platform" for independent continuous learning.
In order to combine education and technology to provide the most perfect teaching quality, BAIS Education Group invests hundreds of millions of dollars in teaching, teaching materials research and development and innovation, according to different ages and learning methods to provide a wealth of digital teaching products, To create innovative interactive learning space for intellectual science, and actively expand the business to integrate education-related resources, both at home and abroad to provide brand franchise licensing services, not only based in Taiwan, but also towards international ambition.
Professional team
BAIS Education Group has set up various business units and logistics management units, respectively, there are investment management center, asset management center, teaching and development center, digital development center, financial management center, information development center, human resources center, district administrative center, etc., committed to the Group's operation and innovation and development.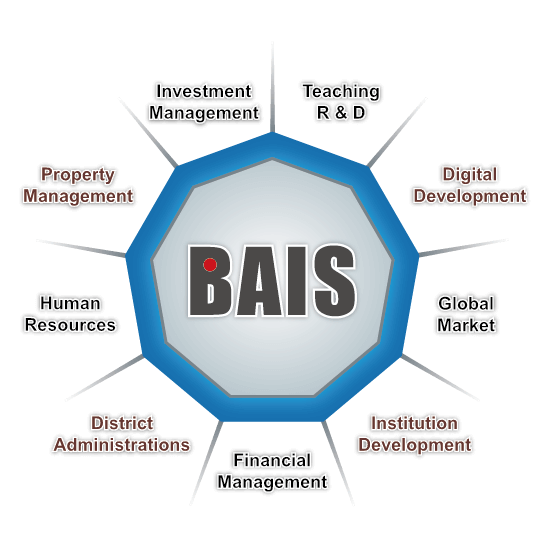 Development history
In 1988, BAIS started with 10 students in a learning center. "BAIS Elite Mathematics" is Taiwan's first alternative professional mathematics institution, in order to develop children's ability.
In education, BAIS focused on research and development and constantly professional upgraded.
In order to respond to the development and management of direct-managed chain enterprises, so that all over the "BAIS-Elite mathematics" direct manage branch management can standardize the operation, and synchronous stability and improve the quality of teaching management for the direct manage branches.
By the "Information Development Center" since 2000 to develop the chain of enterprise e-management system, includes financial management system, human resources management system, personnel attendance system, asset management system, brand class system, teacher management system and with the business development of continuous development of the e-management system of various institutions.
In the era of the rapid development of high technology in the 21st century, BAIS has seen earlier that technology will bring about changes in learning methods. In 2000, pioneered the development of the "cloud business" and established the "Digital Learning Development Center". And has successively developed a variety of unique global creative animation teaching and learning contents, "BAIS Elite mathematics for primary and secondary school thinking training program", "Cool Math kindergarten children's thinking training program", " Grandfather Kong Classic School", aniMath, digital program, take root in children's thinking ability and character education.
Since 2013, we have set up bases in mainland China and Southeast Asia, and actively replicated successful experiences overseas. In addition to the development of business scale, we also hope to the learning habits of more children.
Let more children have better competitiveness through BAIS's education system!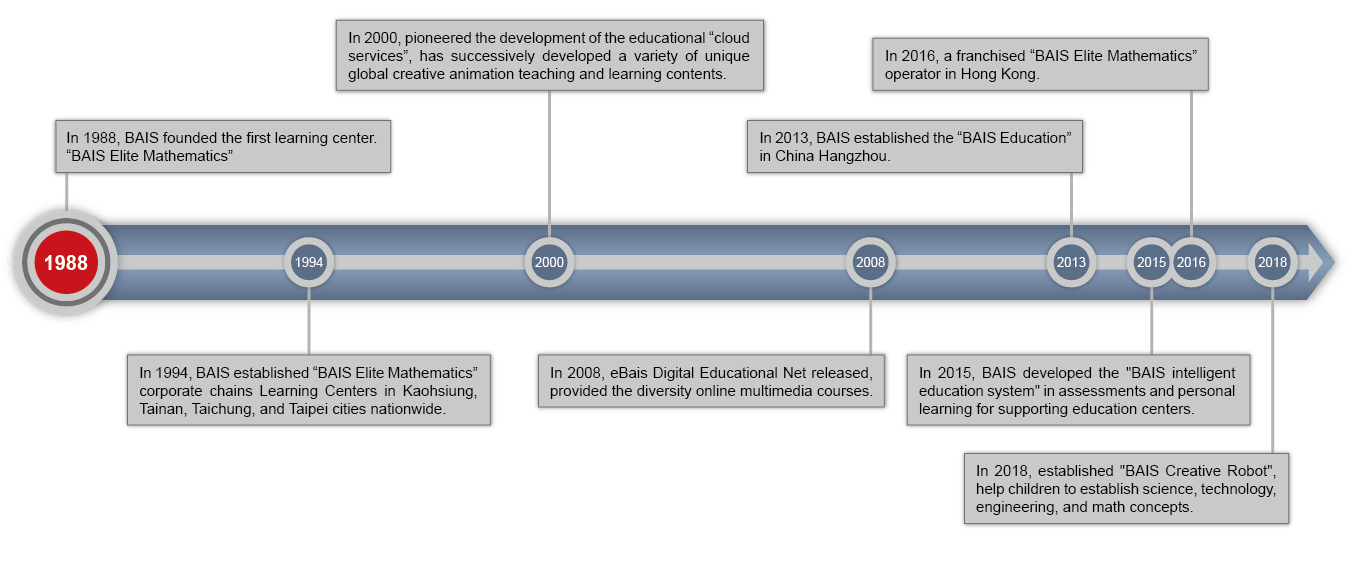 Business philosophy
Since its inception, BAIS Education Group in good faith, creativity, satisfaction with the business philosophy, uphold the return to the essence of education, is committed to developing children's ability to "think independently and solve problems", because BAIS believes that in a changing system and rapid development of society, the ability to train children to take away is the key to success and the essence of education. And further to provide children with dividers of learning, and gradually expand the cause of education.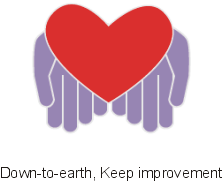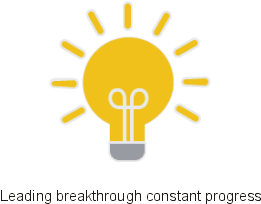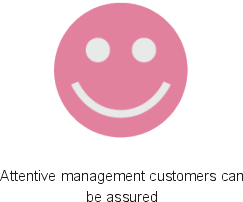 Future Outlook
Committed to deep lying in the business of various brands, improve business performance and customer satisfaction, sustainable development of overseas markets, set up business base, expand business scale, refined research and development products and create a market, improve the efficiency of E to maintain competitive advantage. Reinventing traditional teaching, flipping learning, picking up learning motivational elements to teach in music, so that digital education from the 2D to the 3D graphics, leading the 21st century new education. The content of digital learning products is more "game education" as the goal, design children can effectively learn in the game of vivid teaching materials and support a variety of devices, Multilanguage versions spread the worldwide.